Jakarta - Indonesia has banned goods transactions on social media platforms in a new regulation, its trade minister said Wednesday, as Jakarta aims to rein in direct sales by major tech firms it says are harming millions of small businesses.
Government officials in recent weeks called for social media and e-commerce to be decoupled, targeting platforms they say engage in monopolistic practices that threaten offline sellers, with some specifically blaming Chinese-owned short video app TikTok.
Indonesia's Minister of Trade Zulkifli Hasan speaks during a press Conference at the Ministry of Trade office in Jakarta, Sept. 27, 2023.
'This trade regulation has been in force [since yesterday],' Trade Minister Zulkifli Hasan told a press conference in the capital Jakarta.
He said social commerce platforms would have a week to comply with the new rule.
The regulation means social media firms will not be able to conduct direct transactions but only promote products on their platforms.
Laws in the archipelago nation did not cover direct transactions through social media platforms such as TikTok, Facebook or Instagram before the new regulation.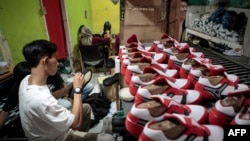 A staff of a small shoe manufacturer makes their new products as they make an introductory video to be posted on social media in Bogor, West Java, Sept. 27, 2023.
The new regulation is yet another setback for TikTok, which has faced intense scrutiny in the United States and other nations in recent months over users' data security and the company's alleged ties to Beijing.
Indonesia is one of the world's biggest markets for TikTok Shop and was the first to pilot the app's e-commerce arm.
But Southeast Asia's biggest economy is now the first country in the region to act against the platform's growing popularity in the social commerce space.
The ministerial-level regulation - an amendment to a trade regulation issued in 2020 - did not need approval by lawmakers.